Alex Bikfalvi - Mercury Client
What is Mercury?
Mercury is a project of the NeTS Research Group at the Pompeu Fabra University that measures the Internet topology between subscribers and Internet companies.
The Mercury Client is a desktop application that uses a traceroute approach to determine the Internet path to a list of the most popular web destinations.
No installation required!
Download and run the Mercury Client application for your operating system. Participating in our project is no rocket science! It only takes a few seconds to begin the automated process, and the measurements usually take less than 10 minutes.
If you have Windows, you may download the Windows version. Otherwise, try the Java version.
Is it safe?
No worries, the Mercury Client will not spy on you! What it does is to download a list of web sites, which are the most popular for your region. Then it will discover the route by sending small packets to the routers leading to each of these destination.
In technical terms, this only requires a small number of ICMP messages that will neither use your computer resources nor slow down your Internet connection.
More questions?
---
Configure the app.
Choose your preferred language and your country.
By default, the language of your operating system, if available, and your country will be selected for you.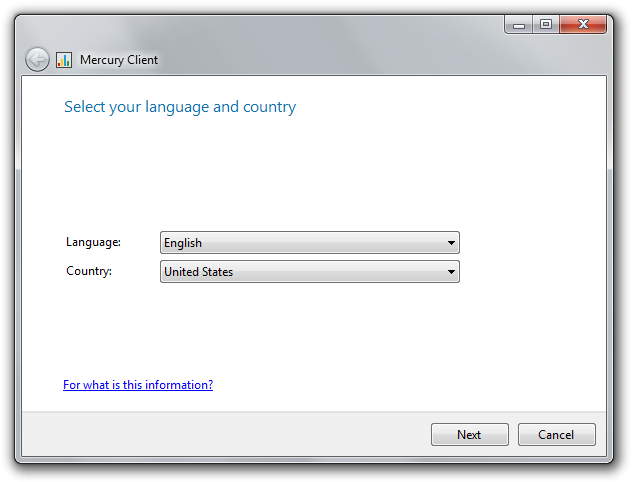 ---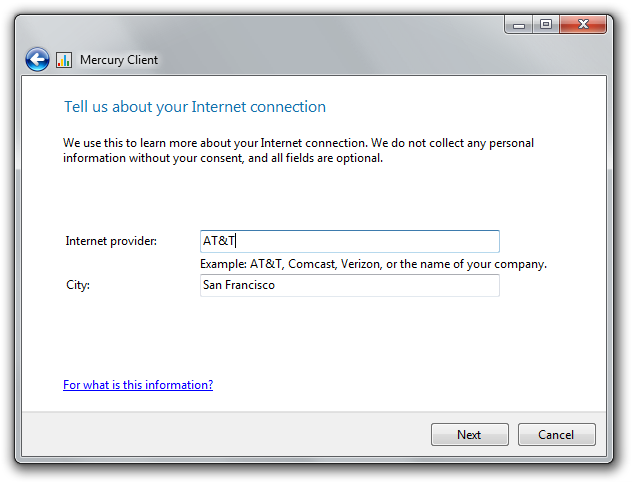 Tell us about your Internet connection.
This information is entirely optional!
But we appreciate if you choose to provide it, since it will help us understand the context of your measurement data. Feel free to add any details you may consider relevant, such as whether you use a specific Internet access technology such as fibre, cable, or ADSL.
---
Start the measurement.
And have a little patience! Usually, the measurement process will take less than 10 minutes, but this of course depends on the quality of your Internet connection.
The app will keep you up to date to the progress, by showing you the number of total and completed web sites, as well as an estimated time for completion.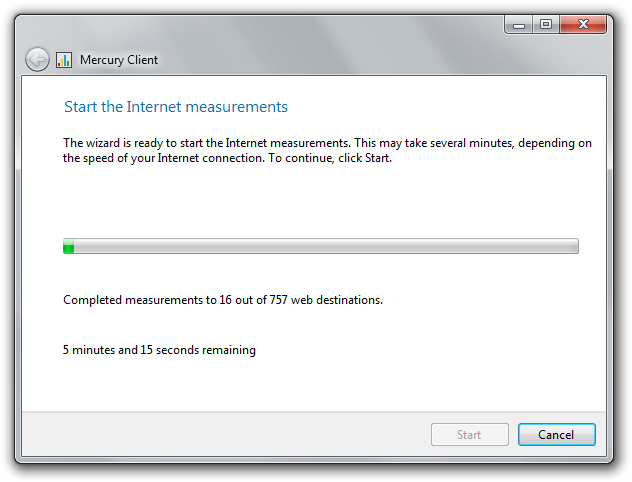 ---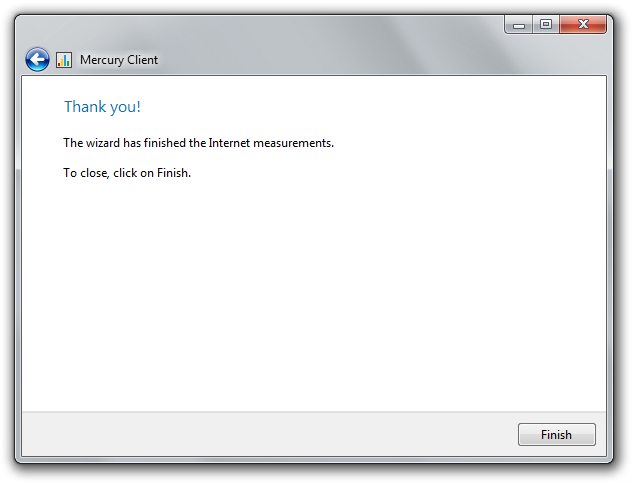 Thank you!
That's all folks! The measurements have finished, the data has been uploaded and it is now safe to close the app.
However, if you cannot wait for the app to complete, you may of course cancel the measurements at any time and start them again later.
Last updated: January 30, 2014